Future Kemah Museum and Visitors Center
---
Things are looking up for the Kemah Historical Society's new museum. The original schoolhouse structure has been moved to its new location at the corner of 6th and Harris Streets. The Historical Society will share space with the new Visitor's Center. The structure had been Boat Shoes Unlimited located next to T Bone Tom's Restaurant on 146. Check back to this site often and we will keep you updated on the progress.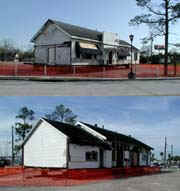 ---
Page 2 - Stage 1 - Stabilization of the structure and foundation and protecting the structure from the elements after the "Annex" is removed. Removing "additions" to find original construction.
---
Page 3 - Stage 2 - Restoration Begins
---
Page 4 - Stage 3 - Main Restoration
---
---
---
Two Articles about the school - Article #1 - Article #2
---
Have your family's history permanently placed in the walk under the flag pole at the restored old school house at Bradford and 6th Street. Click here for details!
---
Return to Main Page Return to History Page Return to Pictures Page