Restoring the model

AK 36 (early) Cabinet

Cabinet lid with tag removed. What a place to hide this information!

Tag is protected before cabinet is restored.
---
On restoring the cabinet it was necessary to strip the cabinet because the finish was in really bad shape. After stripping the cabinet dings were filled with wood filler and the cabinet was sanded. The cabinet was then stained with dark walnut stain and streaked with black stain to accent the grain to match the original finish.
The bottom, some of the borders, and the bottom part of the front of the cabinet was painted with a dark stain. This coloring was not on any of my other AK box sets but since it was on this set I reproduced it. I used a wipe of varnish mixed with oil stain. This was applied before varnishing.
After applying a sealer and light sanding five coats of varnish were applied, sanding between each coat. After the final coat the cabinet was compounded.
The metal parts that had been removed were clean and compounded and coated with clear Rustoleum. Clear Rustoleum is harder than lacquer and adheres to metal better. It will discolor if painted over oxidized areas though and it takes much longer to dry.
Finally, the tag on the bottom was brittle and about to disintegrate so I coated it with spray matt obtained at an art store. The spray mat penetrated the dry paper and restored its strength.
---
---
This completed the restoration of the AK 36 Early. The cabinet was then reassembled and the restored chassis and front panel were installed and the set was connected to the power supply and tested.
---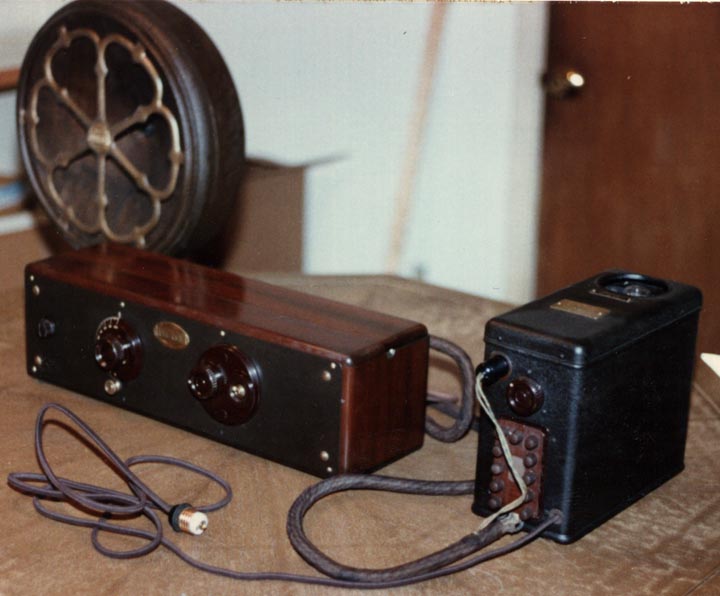 ---